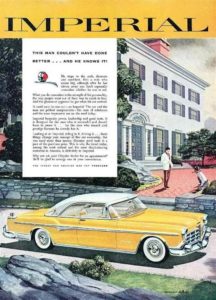 '55 Imperial Sedan: "The finest car America has yet produced."
The term Imperial has been synonymous with Chrysler luxury since 1926. However, beginning in 1955, the company took the name one step further, making it an independent marque, the Imperial Division of Chrysler Corporation. Like Cadillac for GM and later Continental for Ford, Imperial represented Chrysler's most luxurious vehicles.
Virgil Exner introduced his all-new design, the "Forward Look" across the Chrysler divisions beginning in 1955. While Imperial shared its body shell and platform with Chrysler's other big cars, Imperials were distinguished by a four-inch longer wheelbase offering additional legroom, as well as "gunsight" taillights and an "egg crate" front grille. The 1955 lineup included this sedan, the Crown Imperial 8-Passenger Sedan, a limousine, and the "Newport" two-door hardtop.
This Imperial is a mostly original car. It is powered by a factory-installed 331 cubic-inch "Hemi" engine that has never been rebuilt. The low mileage car was never far from home before its trip to Hershey for the "Yeah, It's Got A Hemi" exhibit. It was ordered new by the Postmaster/Station Master of the Bryn Athyn Post Office in Montgomery County, Pa. Its full leather interior in medium and dark gray is extremely uncommon. The car came standard with power-assisted brakes and steering. The optional heater/defroster added $82 to the car's total sale price of $5,122.33. The original invoice shows the buyer received a $1,400 trade-in credit for a '50 Chrysler Sedan.
The Eisenhower administration used these vehicles extensively. David Eisenhower and Julie Nixon Eisenhower have ridden in this car, as has Lee Iacocca! These are just two notes from the car's storied heritage provided by owners Hank and Allison Hallowell