Amazing events, expertly arranged
As your guests drive up the lane, they're greeted with our impressive glass-fronted wedding venue, and the breathtaking views only continue as they walk into the main lobby. Vintage vehicles and elegant decor welcome your family and friends as they enter your dream wedding.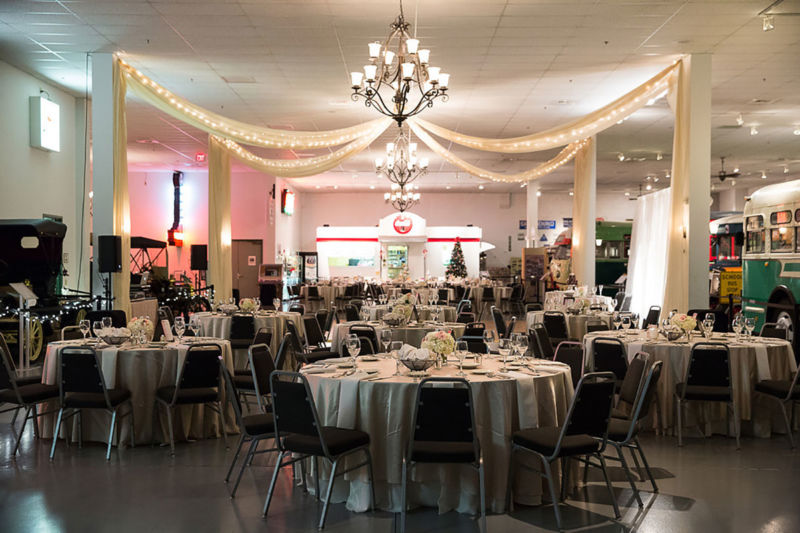 As your guests make their way upstairs to our stunning rotunda, they are seated for the ceremony and enjoy views of the Hershey countryside. After you say your "I do's," your guests are ushered to the Main Gallery for a cocktail reception featuring some of our best car collections. Here they can relax and capture unforgettable photos as they sip and mingle.
After you and your bridal party take stunning photos around the collections, you are announced as a newly married couple in our lower level. Then enjoy an unforgettable evening with family and friends surrounded by iconic buses and beautiful automobiles adjacent to our classic diner.
For guestlists of 40-400+
Our unique and flexible spaces allow us to create perfect events for intimate wedding receptions for small groups of 40 to large groups of 400 or more. Your AACA Museum venue rental includes a top-notch staff and an experienced event coordinator to assist you and your wedding planner with your planning needs and preferences for added amenities such as tables, chairs, set-up/tear-down, dance floor, portable bars, full Museum access, a coatroom, use of our 1950s drive-in theater, and more.
Customized to meet your needs
We customize events and wedding packages to make nearly any vision come alive. Whether you need more table space for your guests to enjoy dinner or a larger dance floor to dance the night away, our staff is happy to accommodate. Our trusted partner, C&J Catering and Events, offers special menus exclusively prepared for AACA Museum events. If you have your own menu ideas, just let us know. We can tailor a menu just for you.
How can the AACA Museum accommodate your special day?
When you choose the AACA Museum for your wedding, you are assisted by our caring staff and our talented event partners. We're committed to making your dreams a reality.
Whether the Museum is the venue for your wedding reception, ceremony, or rehearsal dinner, we make sure that every detail comes together seamlessly. Our space offers numerous elegant backdrops to accentuate your wedding and occasion photos for the ages. In the Museum, you'll find: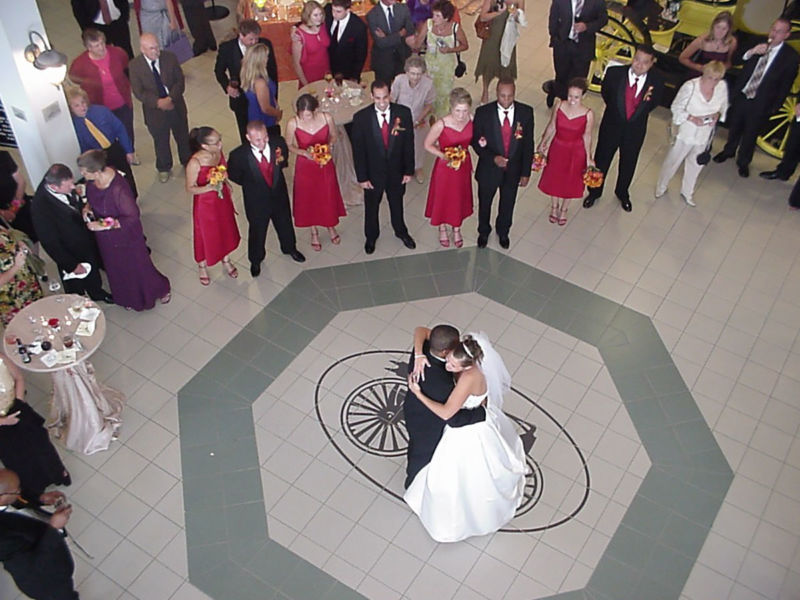 The Main Lobby
Your guests experience a great sense of arrival as they enter the Museum through our Main Lobby with 50-foot ceiling and tile floors adorned with rare automobiles.
The Main Gallery
Our main level gallery transports guests back in time from Battery Park, New York in the early 1890s to San Francisco's Golden Gate Bridge in the 1980s. This extraordinary exhibit space, set against a backdrop of lifelike hand-painted murals and multi-dimensional displays, is a perfect setting for hors d'oeuvres and cocktails.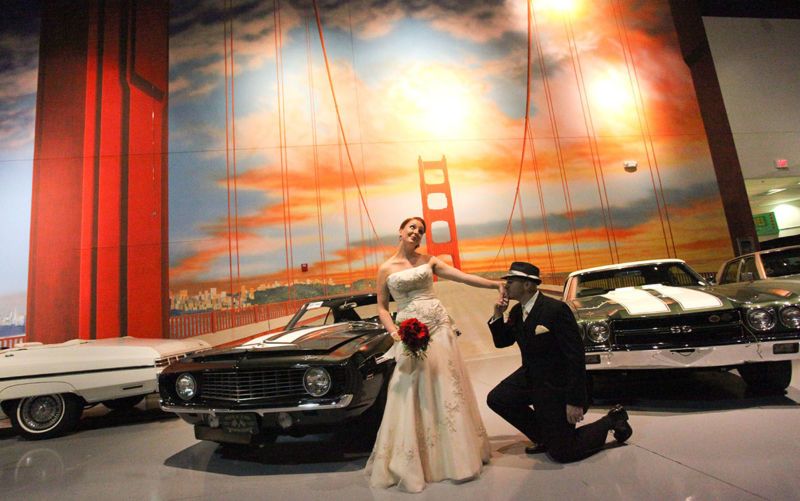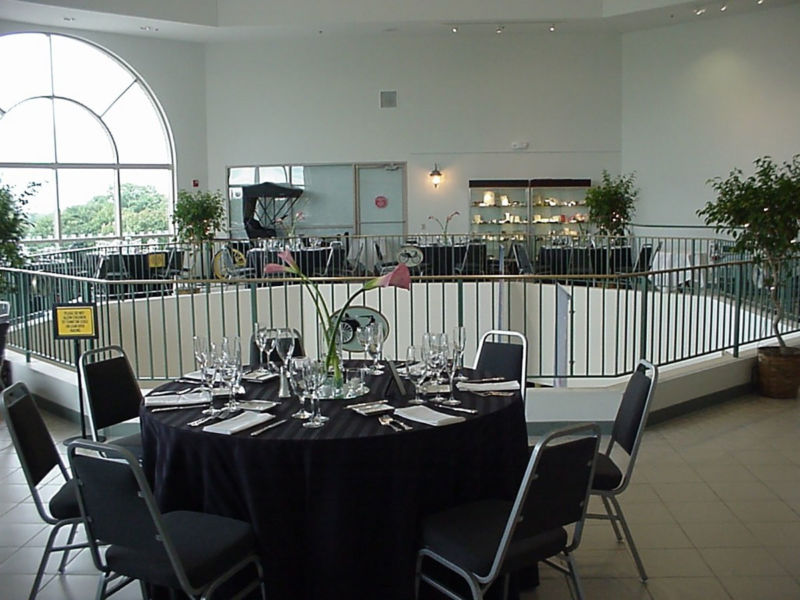 The Upper-Level Rotunda
Our upper-level rotunda, framed by arched floor-to-ceiling windows, offers a picturesque view of the rolling hills of Central Pennsylvania. This area is perfect for your wedding ceremony. The rotunda overlooks our main exhibit gallery and its collections. The center section provides an aerial view of the main lobby below.
Lower Level Gallery
In the lower-level concourse, guests are seated among rare automobiles and vintage buses near our restored 1940s Valentine Diner. Whitney Houston's limousine and the bus from the award-winning movie Forrest Gump are among the memorable sights. The area accommodates up to 400 guests banquet-style utilizing tables of eight. A dance floor or stage can be added to the event plan configuration.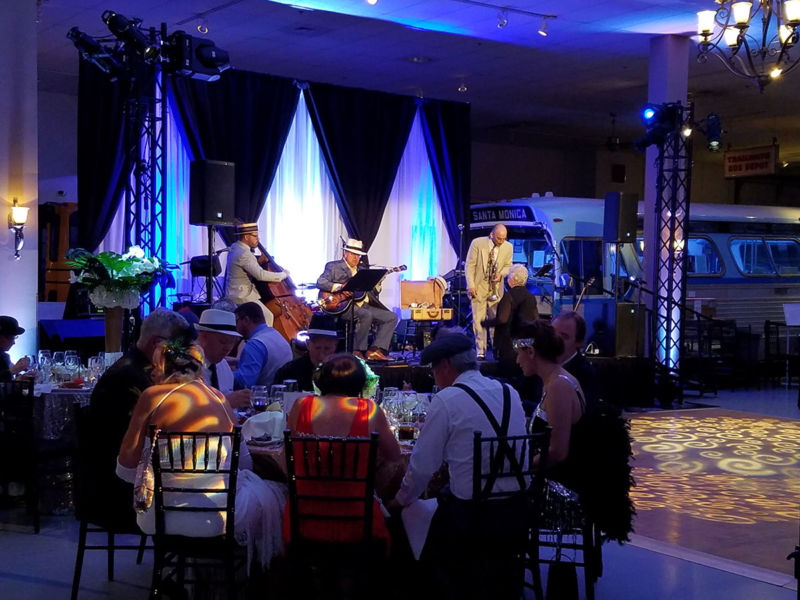 What types of weddings do we host?
We host all kinds of weddings at the Museum! If you're looking to keep cool in the summer heat, our spacious, air-conditioned venue is the perfect oasis. If you know fall and winter are the time to tie the knot, you can forget fearing the weather and rest assured our climate-controlled galleries will keep you warm and dry.
We welcome any and all guests to the AACA Museum for weddings and are happy to host LGBTQ weddings. We are inclusive of all seeking the beautiful and amazing journey to a lifetime of love. Our team understands that it can sometimes be difficult to find an LGBTQ-Friendly wedding venue and we're happy to make the happiest days of your lives come true!
FAQ About Wedding Venues in Hershey, PA
What does the rental fee include?

Full Museum access
Tables and chairs
Event set-up and tear down
Event staff
House sound system
Abundant parking
Electronic road sign
Dance floor
Two portable bars
Stage
Wireless microphones
Who is your events partner?

Great question! We're pleased to partner with caterer and event planning geniuses C&J Catering!

Not included, are items typically provided in the catering contract with C&J Catering. For example, food, beverages, bartender, linens, china and stem wear. The great news is that C&J Catering can provide all of that for you so you do not need to worry about a thing!
While you are free to choose your own vendor for the following services, C&J Catering also provides these services – making planning your wedding stress-free and FUN!

Custom cakes and desserts
Reception & bridal floral & design elements
Lighting & custom furniture rentals
Wedding Planning and Day-of-Coordinator Packages
Custom Signage
Ceremony & Menu Cards
Where can I find an indoor wedding venue near Hershey or Harrisburg?

Right here at the AACA Museum! Cross off the fear of weather from your wedding worries – our event space is 100% climate controlled.
How many guests can you accommodate?

Our lower level gallery can accommodate up to 400 guests banquet style with tables of eight. This space can also accommodate a dance floor and a stage.
Do you have a bridal party suite?

Take the stress out of traveling and prepare for the day right here at the Museum! We offer two private rooms for your closest friends and family to get ready in. These rooms are available to you for the entire day for
touch-ups, outfit changes or to store your personal belongings. Food and drink are allowed and can be provided by yourself or C&J Catering.
Can we serve alcohol at your wedding venue?

We are a public Museum and we DO NOT SELL alcohol. You may bring your own and use our bars and coolers. This could literally save you thousands of dollars on alcohol by bringing your own. Please keep this in mind when calculating your costs. Please note that all events begin at 5:30 pm and must end by 11 pm. All alcohol must be served by a RAMP certified bartender contracted through C&J Catering. Alcohol may NOT be brought into or removed from the Museum by a client or their quest at any time the day of the wedding. Bar service must be concluded 1 hour prior to the conclusion of your event, no later than 10 pm. Any alcohol entering the building must remain in the building until the NEXT day when it may be retrieved.
How do I contact you for additional information on weddings in Hershey?
Picture your next event hosted with a backdrop of classic cars, elegant scenery and a group of event planners ready to make the most of our venue! Give us a call or submit an event inquiry to talk to our team about your next event: