For years our annual Night at the Museum (NATM) event has coincided with the start of the Eastern Fall Meet — Hershey Region. Next year is no exception. The meet attracts automotive enthusiasts from around the globe, and NATM has become THE place for motoring enthusiasts to get together, enjoy good food and conversation, and support the Museum's mission. With this in mind, we're already planning for October 3rd, 2023. Check back for details as they become available.
A Look Back at Our 2022 Event
A look back at the 2022 event honoring Bob Wallace, AACA Museum Automotive Heritage Award honoree, and recognizing Tom Mozer and John Marsh as the 2022 Class of William H. Smith Museum Fellows.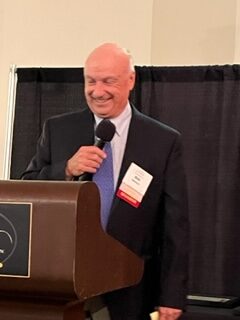 Who benefits from Night at the Museum?
The easy answer … everyone. As a Smithsonian Affiliate, the Museum offers visitors a world-class transportation experience through interactive exhibits, educational opportunities, entertaining events, and hands-on activities. Dedicated to education and preserving transportation heritage, the Museum was opened in 2003. The 20th anniversary is fast approaching, and the Museum continues to flourish as one of the top automobile museums in the United States.
Thank You, 2022 Sponsors
---
Premier Sponsor

Platinum Sponsors
Gold Sponsors