Bill Smith Memorial Summer Cruise In
Jun 17
@
8:00 am
–
3:00 pm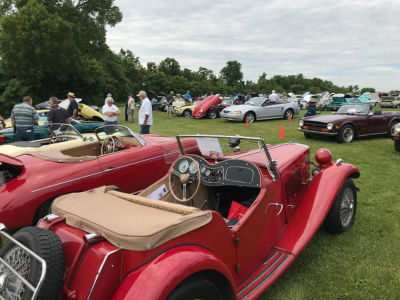 This summer, the annual William H. "Bill" Smith Memorial Cruise In celebrates the museum's 20th anniversary and coincides with our Tucker '48 75th anniversary celebration.
Bring your car, bring your family, bring your friends! Cruise Ins are family-friendly car gatherings open to all years, makes, and models. It's a relaxed format and a chance to share your car with a wide variety of people. And this year, the Tucker celebration offers an opportunity to see Tucker history being made.
Highlights
Tucker Parade
Don't miss your chance to see our Tucker parade, which includes Tuckers #1013, #1015,1026, #1044, and #1050. Check back here to see other Tucker vehicles included in the parade.
Awards
Three awards will be presented at the event.
Curator's Choice Award: Selected by AACA Museum, Inc. curator Stan Sipko
People's Choice Award: Selected through attendee voting
Bill Smith Best Amateur Restoration Award: Selected by a panel of judges
Specials for Cruise-In Participants
Each participating vehicle receives
Free registration
One complimentary Museum general admission ticket
A 20% discount coupon for Accessories gift shop purchase
The on-site outdoor events are free.
Museum admission for the day is $25 and includes the Tucker '48 75th Anniversary Displays/Exhibits and Tucker Talks. There are no club, membership, or other discounts for the day.
Breakfast and lunch selections can be purchased onsite on the day of the event.
Swap Meet / Car Corral (For Sale) Spaces Available
Our Bill Smith Memorial Cruise-In offers opportunities for vendors. 10′ x 20′ Swap meet vendor & car corral spaces are available for $20. Flea Market spaces are limited to 24 vendors. Please note: Vendors must provide their own tables and/or chairs. Contact us via info@aacamuseum.org with any questions.
Awards

Class Awards – one for each class EXCEPT Class 1

AACA Museum Award

Popular Vote Award – chosen by attendee votes

Best of Show – chosen from class winners

Note: Class 1 registrants are NOT Eligible for the Class Awards. Instead, you will receive a participation award.

The first 200 vehicles registered will receive a custom dash plaque.
Car Show Registration

Vehicles can arrive between 8:00 am – 10:00 am (You must arrive by 10 am for your vehicle to be judged.)
Advance registration is $15 per vehicle.
Day of show registration is $20 per vehicle.
This is a rain or shine event.

Event t-shirts can be purchased for $15 each when registering. Shirts will be available day of show while supplies last.

Registration Includes:

One AACA Museum Admission Ticket
Ability to purchase Museum Tickets for your guests at $10 each at the time of registration.
Eligible for a class award (exception class 1 registrants who receive a participation award.)
Custom show dash plaque for the first 200 registrants
Car show goodie bag for the first 200 registrants

Note: Choose a modified class for vehicles with 3 or greater modifications.

| | |
| --- | --- |
| Class 1 | Senior Cars (CCCA, AACA, etc.) non-judged |
| Class 2 | Pre- 1929 |
| Class 3 | 1930 – 1939 |
| Class 4 | 1940 – 1949 |
| Class 5 | 1950-1959 |
| Class 6 | 1960 – 1969 |
| Class 7 | 1970-1979 |
| Class 8 | 1980-1989 |
| Class 9 | 1990-1999 |
| Class 10 | 2000 to Present |
| Class 11 | Trucks (stock) all years |
| Class 12 | Trucks (modified) all years |
| Class 13 | Motorcycles & Mopeds |
| Class 14 | Industrial (military, agricultural, etc.) |
| Class 15 | Street Rods |
| Class 16 | Modified | Custom |
Car Corral & Vendors

Do you have a vehicle you would like to sell? Car Corral spaces are $15 per vehicle for the display area. (Day of show registration will be $20)

All years, makes, and models of vehicles will be accepted – it doesn't need to be an antique or classic car.

Provide us with a digital image, and description of your vehicle in advance and we'll post in on our social media for added benefit. These can be sent to NGates@AACAMuseum.org

Flea Market Vendors can sell vehicle parts, tools, collectibles or general items such as t-shirts, art, candy, popcorn, etc. Vendors are responsible for their own space set-up needs – tables, chairs, change, etc. There is no wi-fi service available.

Vendor spaces are $15.00 and are 10′ by 30′ in size. Advance registration is required, we will not be selling these spaces day of show.

Car Corral & Vendors should arrive between 7-8 am so you can be set-up prior to event attendees arrive.

Food Trucks should contact our events team directly to discuss availability. 717-566-7100 ext. 105.
Auction

Our 2nd chance auction centers around car parts, tools, and automotive collectibles. We do not auction any vehicles. Items purchased need to be removed at the end of the auction.

Donate Auction Items – consider some spring cleaning of your home or garage and donate items to the AACA Museum for sale at the auction. As a 501 (c)(3) non-profit organization, the AACA Museum appreciates all donations. Donation receipts are available upon request. items can be dropped off at the AACA Museum beginning February 1st – call to arrange for an item drop-off time. 717-566-7100.

No tires, upholstered seats, or window glass will be accepted.
Related Events