Tucker '48 75th Anniversary Celebration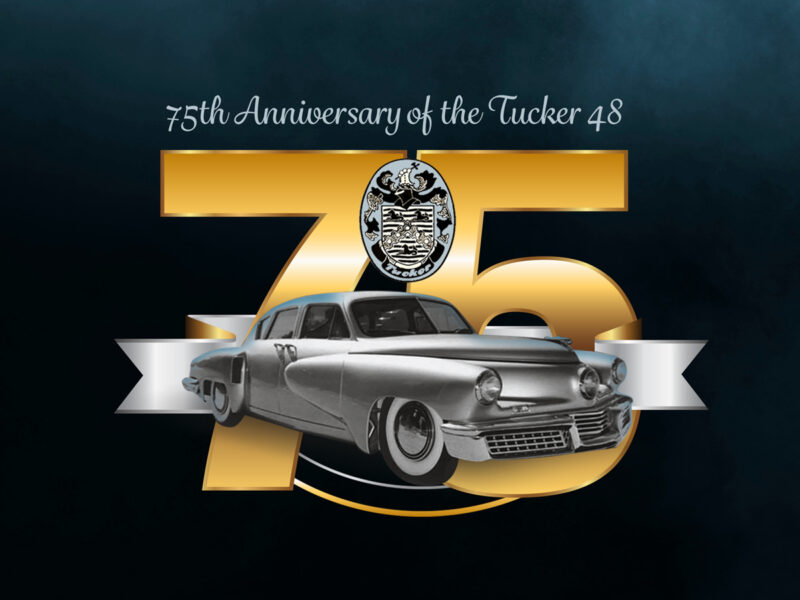 The legacy of maverick car designer Preston Tucker and his "Car of Tomorrow" lives on. And we're celebrating a monumental milestone in Tucker's intriguing history: 2023 marks the 75th Anniversary of the famous "Tucker Torpedo," one of the most iconic automobiles of the 20th Century. Only 50 cars rolled off the assembly line in 1948; today, the car is widely known as the Tucker '48.
Join the Celebration!
Everyone is invited to the weekend-long celebration as we welcome Tucker family members, Tucker owners, and relatives of those who played significant roles in developing the Tucker '48. It also brings together Tucker enthusiasts, motoring experts, and historians as we celebrate all things, Tucker.
Reserve your place, and be part of Tucker history. The Tucker '48 75th Anniversary Pass includes the "Toast to Tucker Gala" at the museum on June 16th, admission to the museum on June 17th and 18th, and all on-site activities and Tucker Talks. Tickets: $150
A "Toast to Tucker" Gala, June 16th, 6 pm
"A Toast to Tucker" is our evening gala showcasing nine Tucker '48 vehicles on display courtesy of private owners and museums. During the evening, guests will enjoy
A delicious seated dinner prepared by C&J Catering.
Launch of the Tucker Hall of Honor and the inaugural class induction.
Tucker memorabilia live and silent auctions.
A look at the new Cammack Tucker Historical Research Center
Special guest speakers
75th Anniversary Activities, June 17th, 9 am – 3 pm
Museum admission (June 17th & 18th)
On-site presentations by Tucker historians and family members
Vehicle photo opportunities
A look at the new Cammack Tucker Historical Research Center
A Tucker parade as part of the annual Bill Smith Memorial Cruise In
As a Bonus: Tucker Movie Screening, June 16th, 1:30 pm
As an added bonus, guests can add a special "Tucker: The Man and His Dream" movie screening at the historic Allen Theatre (36 E. Main St. Annville, PA ) to their celebration events. The screening includes live introductory commentary and a closing Q&A by Tucker historian Larry Clark and Preston Tucker's granddaughter Cynthia Tucker Fordon. Cynthia acted as a production assistant and liaison to the Tucker family during the film's production.
About the Movie: The 1988 film, directed by Francis Ford Coppola, recounts the story of real-life inventor Preston Tucker and his attempt to produce and market the 1948 Tucker sedan, which was met with opposition from the "Big Three automobile makers" and accusations of stock fraud from the U.S. Securities and Exchange Commission for which Tucker was acquitted in 1950. Tickets: $20.
Coming for out-of-town?
Hershey, PA, is a busy place all summer long. Our history, events, and attractions make Hershey a family-friendly destination. With this in mind, we want to provide you with options for your stay in the area.
Related Events