Virtual Tucker Talk: 'The Tucker Movie: What's Real, What's Not?'
Jan 22, 2022
@
11:00 am
–
12:00 pm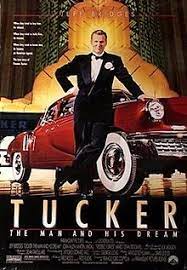 Larry Clark presents the second in our series of virtual "Tucker Talks." This time Larry focuses on Francis Ford Coppola's 1988 film, Tucker: The Man and His Dream. The film has become a classic automobile-themed movie, especially for Tucker car enthusiasts. Also, the movie is frequently shown and studied in today's college entrepreneurship classes. For all, the frequent question is "what's real, what's not real?" in key scenes within the movie. The event begins at 11 a.m. EST.
Preston Tucker's Grandchildren Share On-set Experiences and Memories
Tucker family members John Tucker, Jr. and Cynthia Fordon join Larry to discuss what's real in several key scenes in the film. Also, they share firsthand insights into behind-the-scenes matters associated with the making of the movie. Get your popcorn ready and join the discussion.
Registration is now closed. If you are pre-registered and need help to gain access to the webcast email us.
Related Events