AACA Museum Live: Tom Cotter "Coast to Coast" Webcast
Nov 27, 2021
@
2:00 pm
–
3:30 pm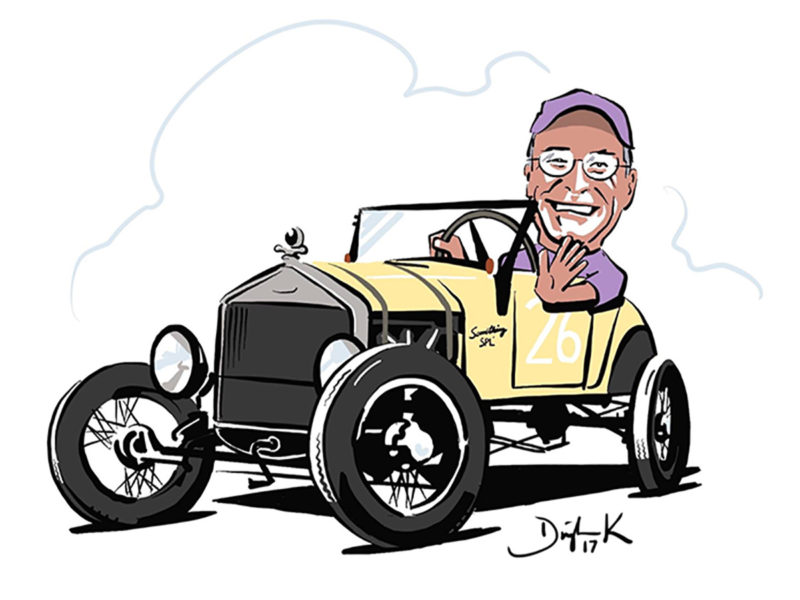 Tom Cotter, the author of 18 car- and racing-related books, including 10 in the "barn find" series. joins us "live" via Zoom from North Carolina to share his experiences driving coast-to-coast in a 1926 Model T Ford Speedster. You can join Tom online via Zoom or participate in the simulcast on the big screen at the Museum. The vehicle is now on display at the Museum.
Tom chronicled his experiences in his new book Ford Model T Coast to Coast: A Slow Drive Across a Fast Country, and now he presents the story to AACA Museum's motoring enthusiasts. The trip was all about the stories: the places they stopped, the people they met, where they ate, and where they slept: e.g., New Jersey diners, Flight 93 Memorial, Iowa cornfields, American Pickers, the Salt Flats, Nevada Casinos, getting up and over the Rockies, and more.
Tom and Dave Coleman drove the Speedster 3,707 miles on the Lincoln Highway (US Route 30) from Manhattan to San Francisco's Lincoln Park. The car dubbed "Something Special" experienced not a single breakdown.
It was equipped with Rajo Overhead valve conversion, disc brakes up front and rear hydraulic drums, lowered on the suspension, and fenders removed. Something Special regularly exceeded 50 mph and occasionally 60 mph.
There are two ways to attend
Guests can participate online or onsite at the Museum. Please complete the form below indicating your attendance preference. Pre-registration closes at noon on Friday, November 26th. The 1926 Model T Ford Speedster is on display at the Museum and will be featured in the presentation.
---
Online pre-registration
Tom Cotter's webcast from North Carolina is powered by Zoom. To attend the online webcast, pre-registration is required. Space is limited. The Zoom link that provides access to the presentation will be emailed to pre-registered guests on the day before the event.
Access Link
If you pre-registered for the online event, the access link is here. If you are asked for additional access info, here are the Meeting ID: 879 0589 3624 and Passcode: 123456
If you have questions, please email info@aacamuseum.org
In-person pre-registration
Tom Cotter's onsite webcast is included with paid general admission to the Museum. Pre-registration is required. Reserve your spot to see Tom's webcast onsite by completing the form below. You can purchase your admission ticket now or at the door when you arrive. Space is limited.
Related Events