Spring MapCon: 'Women on Road Maps'
Apr 9, 2022
@
9:00 am
–
5:00 pm

The Road Map Collectors Association Spring MapCon presents a special exhibit titled "Women on Road Maps."
If you are a Boomer or Gen Xer, you know that you could drop in at most every gas station and pick up a FREE state map and often FREE maps of major cities. If you came along later, you might not be familiar with paper maps, their heritage, and their value to consumers and advertisers.
In their era, they became collectibles that people saved from their travels, offering snapshots of changing roads, communities, points of interest, and more. But more than just providing directions, maps were advertising at its best. From Art Deco graphics to beautiful scenes, all were avenues for promoting travel and related businesses such as oil companies, gas stations, and motoring products.
Spring MapCon displays an array of thousands of maps, including gas station maps, official state maps, city maps, special event maps, commemorative maps, and turnpike maps from the United States and worldwide! There are maps from as early as 1916.
This year the event takes a unique look at the role of "Women on Road Maps," highlighting how women were portrayed on map covers through the 20th century. As motoring became more accessible and popular with women and families, women were portrayed sometimes as navigators, sometimes drivers, sometimes in glamorous style, and sometimes as moms. We salute the role of women in motoring and the artistic renderings gracing map covers and travel promotion.
The Road Map Collectors Association exists to preserve and educate the public about these fine examples of the culture built around the automobile and its use for pleasure travel throughout most of the 20th century. Those with maps to donate to the club, a 501(c)(3) non-profit, are invited to bring them along. MapCon is FREE with paid Museum admission.
During our pandemic closure, we took a look at the uniqueness of the Road Map Collectors Association's displays at the Museum. Although the Museum is fully open, our video snippet highlights the era and artistry of road maps.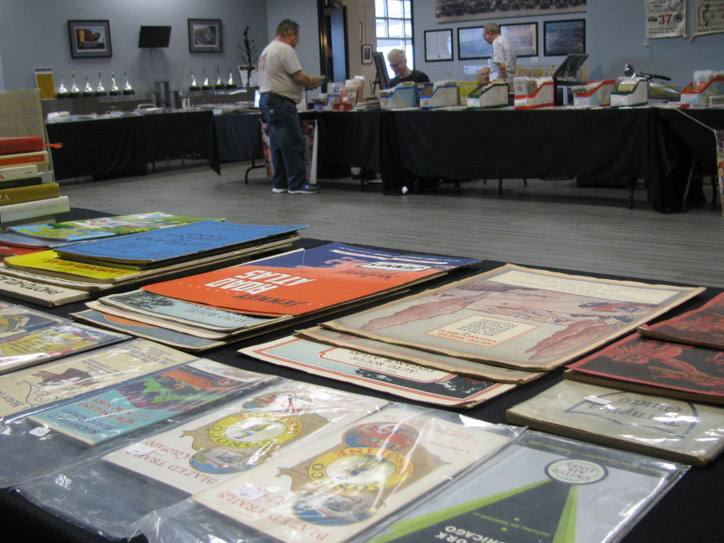 Related Events