Grillin' & Chillin' at the Museum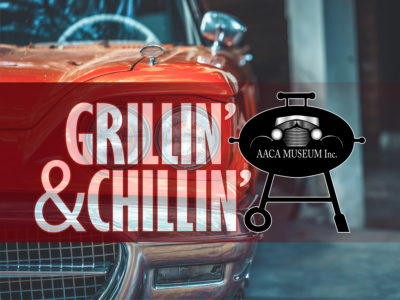 CHECK BACK FOR DETAILS
While the traditional week-long celebration known as "Fall Hershey" is canceled, the AACA and Hershey Region are planning a socially-distanced, one-day car show on Saturday, October 10th.
You're invited, join us for dinner.
Leading up to the show, Friday, October 9th, the Museum is "Grillin' and Chillin.' If you're looking for an enjoyable, low-key way to spend the evening, please join us for dinner. Our informal, outdoor event features a delicious barbeque meal prepared by C&J Catering. The Museum is open for the evening and features our "Yeah, It's Got a Hemi!" exhibit and a new display from the Horseless Carriage Club of America. Pricing and details are coming soon.
RV and camping trailers parking at the Museum
When you're in Hershey to attend the show, our traditional RV parking program is in place again this year. We offer safe and secure spots to park RVs or camping trailers at the Museum. The cost is $35 per day, $30 per day for booking of three or more days. We also accommodate show car trailers for those participating in the car show. To reserve space, please contact Dareck Caroway at 717-566-7100, ext. 103.
Mark your calendar! We look forward to seeing you in October.
Meet Week 2021 – October 6-9, 2021
Related Events